Bryant Park
Location: (Between 5th Ave and 6th Ave and between 40th St and 42nd St)
Nidtown Manhattan, NY
Bryant Park is one of the many oases dotting the concrete jungle of Manhattan.
The 9.6 acre park is located in midtown Manhattan, close to Times Square, Port Authority bus terminal, Grand Central train station.
On the eastern edge of the park stands the splendid edifice of the New York Public Library.
Bryant Park – Brief History
The origins of Bryant Park as a public park date back to 1847 when it was called Reservoir Square after the nearyby Croton Distributing Reservoir.
It took another 37 years for the park to get its current name.
In honor of the anti-slavery crusader and New York Evening Post editor William Cullen Bryant, Reservoir Square was renamed Bryant Park in 1884.
During the Holiday Season, Bryant Park comes alive with open-air Holiday Shops offering patrons a collection of unique artisans from around the world. Open Daily From October 27-January 8.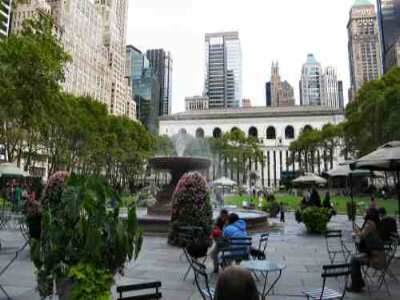 Bryant Park NYC
The big draw of Bryant Park during the winter months is the FREE skating rink.
Kids start lining early to get a chance to skate for free.
You enter the park's Skating Pavilion via the 40th Street side of the park.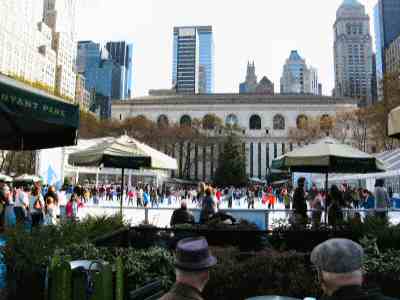 The green lawns of Bryant Park is the location of the Bryant Park Summer Film Festival and various music performances.
WiFi at Bryant Park
By the way, Bryant Park has been offering FREE WiFi since Summer 2002.
So, open up your Firefox or Internet Explorer browser and explore the world wide web to your heart's or laptop's content.
The parks department of New York City has also installed a few electric points at Bryant park where you can charge your laptops, tablets and cellphone.
Park Hours: Opens at 7AM.
Closing changes by month but is usually 10PM
Subway: B, D, F, M to 42 St-Bryant Park; 7 to 5th Ave
Web site: http://www.bryantpark.org