New Yorkers are are a strange species.
You'll find them forever foraging for new food items and in that pursuit often following the herd.
Few people, it seems, have a mind of their own.
They see one review of a pizza, pasta or yogurt 'to die for' and you can see the lemming followers nodding their heads in unison.
Chobani Yogurt Bar SOHO
Take for instance, the recently-opened Chobani yogurt bar in downtown Manhattan or SOHO to be precise.
There's so much buzz about the place that even I, who pride myself on my staunch resistance to the fashion of the moment, fell for it.
Alas, as I quickly learned to my disappointment the two varieties I tried at the Chobani yogurt bar looked far better in pictures on the store wall than they tasted.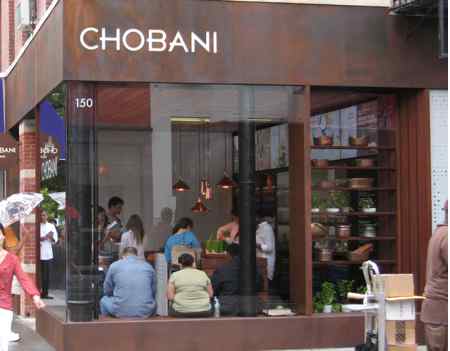 Chobani Yogurt Store in SOHO, NYC
During my visit there was a sizable group of mostly young people (where have all the old people in NYC gone?)
Copying the Apple store model, a waitress briskly walking around with a handheld iPod-like device took my order, swiped my card in her widget and upon my request even e-mailed me the credit card receipt to my iPhone.
I ordered two different cups of Chobani Yogurt – Pistachio + Chocolate ($3.75) and Toasted Coconut + Pineapple ($3.75).
Inside of Chobani Yogurt Store, NYC
The Chobani store in SOHO (above) is small and can easily feel cramped.
There's some sitting space on the low bench running along the wall.
During my visit, the manager/owner (the balding guy) sat on the bench fiddling with his iPad even as several customers were standing. A no, no in my lexicon. You don't keep customers standing when you can offer them your seat.
Obviously, this is one bozo unschooled in the basics of customer service.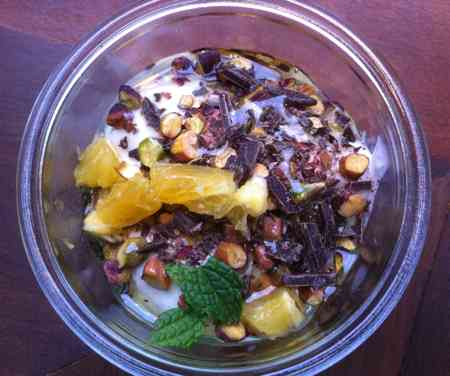 Chobani Pistachio + Chocolate
It took about 12 minutes for my two Greek yogurts to be ready.
The Chobani yogurts come in small glass cups wrapped in cloth at the top and tied with a rubber band.
The two yogurts had the same plain white base with the toppings being the differentiator.
I did not find much taste in either of my yogurts.
And in my not-so-humble opinion the toppings were too little for the quantity of yogurt.
Perhaps, my expectations were set too high.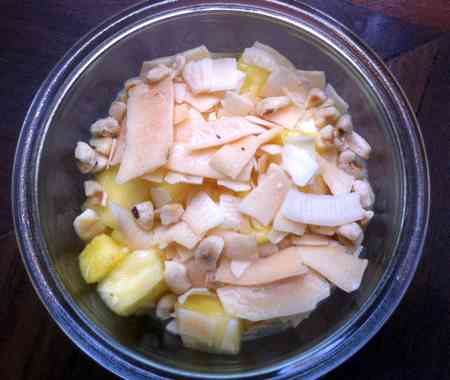 Chobani Toasted Coconut + Pineapple
As I deposited the cups in a corner and got ready to leave, an attendant handed me two coupons for 25-cents off on a future visit.
I thought that was generous until I realized later that it was for just returning the glass cups. 🙁
Deflated with my Chobani experience, I left the store and unmindful of the falling rain started walking down the street.
I would not recommend Chobani Yogurt Bar.
But if you still hanker for Chobani, you can always pick up the small cups in Walmart or other grocery stores for a buck a piece. They come in different flavors with fruit at the bottom.
Chobani
150 Prince St
(Between Thompspn St and W.Broadway)
New York, NT 10012
Ph: 646-998-3800
Subway: A, C, E to Spring St; N, R to Spring St