The Crumbs Bake Shop on the Upper West side of Manhattan was a pleasant discovery.
I was walking along Broadway near 109th St and suddenly had an urge to eat something sweet.
Voila, I hit a jackpot in Crumbs Bake Shop.
I tried a Cheese Danish with Almonds toppings ($2.75) and a Dark Chocolate Cup Cake ($3.95).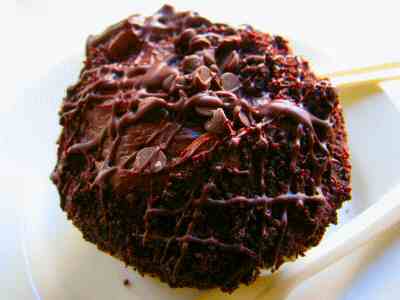 Dark Chocolate Cup Cake $3.95
Both Cheese Danish and Dark Chocolate Cup Cake tasted yummy and fresh.
And the Super-Sweet staff was a bonus on the day of my visit.
I sat on a tall stool by the glass window and in serenity watched the bustling world outside.
God, I hope this store survives the recession.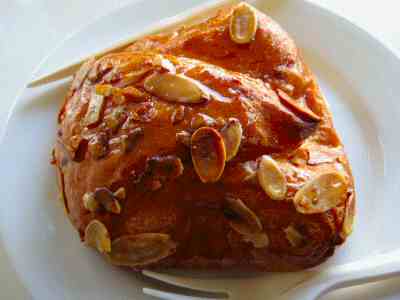 Cheese Danish with Almonds Toppings $2.75
Crumbs Bake Shop
2814 Broadway
(At 109th St)
New York, NY 10025
Ph: 212-865-4500
Cheap: Breakfast Special Coffee & Pastry $3.60; Super-Sweet Staff Bonus.
Hours: Mon-Thur 8:30AM-9PM, Fri 8:30AM-10PM, Sat 10AM-10PM, Sun 10AM-9PM
Subway: 1 to 110th St
By the way, Crumbs Bake Shop on Broadway also has a $3.60 Breakfast deal – one medium coffee with one pastry.