Yes, we live in a connected world.
Most of us develop severe withdrawal symptoms should we be untethered from the Internet for over 30-minutes.
Fortunately, there are several hundred FREE WiFi hotspots in Manhattan (i.e. besides all the unsecured private ones) from where you can fire up your laptop or turn on your iPad or netbook to quickly update your blog, Facebook status, check the latest news or post a Tweet.
Free WiFi Board in Times Square
New York City in partnership with AT&T is now offering FREE WiFi at several parks and tourist spots.
Battery Park (Battery Bosque and Ferry Landing), Mineral Springs and Tavern on the Green in Central Park, Bryant Park, Rumsey Playfield, areas of Thomas Jefferson Park in East Harlem, Tompkins Square Park,  Madison Square Park, Times Square, Rockefeller Center, near St. Patrick's Cathedral, along Park Avenue and near the Ed Sullivan Theater all supposedly have FREE WiFi.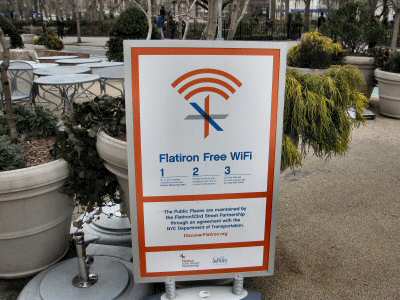 Free WiFi Board near Madison Square Park
AT&T claimed on December 15, 2011 that 200,000 connections have been made in popular parks like Battery Park and Central Park.
AT&T's WiFi initiative is part of five-year digital initiative with the City of New York to provide free WiFi at 26 locations in 20 New York City parks across the five boroughs.
Since I haven't tested the WiFi service, I can't vouch for the speed, security and overall quality of service.
McDonald's offers FREE WiFi at several of their NYC stores. If you experience difficulty connecting, you may call their Technical Support number – 1-877-MCD-WIFI (1-877-623-9434)
Caution: Always remember that your precious data is vulnerable while on an unsecured WiFi network.
Here's a useful Link to locate WiFi hotspots in different areas of Manhattan:
http://www.openwifispots.com
Several commercial establishments like restaurants also provide free Wireless Internet access.
Starbucks
Dozens of outlets in NYC.
Starbucks coffee shops offer unlimited FREE wireless Internet access at their company owned stores.
If you're having Internet access trouble at a Starbucks, don't hesitate to call 1-888-888-7520.
Where are the Starbucks Stores
Starbucks' web site has a convenient store locator feature to let you easily find a store near you with their hours, services and a neat map too.
Do NOT feel obligated to buy Starbucks' overpriced pastries or muffins or lattes just because you're using the free WiFi Internet access there.
If I am in a generous mood, I splurge on a small coffee (costs less than $2).
On several occasions, I've seen a few electric outlets at Starbucks. Just plug in your laptop, netbook, iPhone, iPad or wateva gizmo you're high on to recharge them for FREE.
Starbucks shops have restrooms too (although a lot of them are not as clean as I'd like them to be).
Just don't try to take a shower at Starbucks. Now that really would be stretching the meaning of cheap and free!
Web site: http://www.starbucks.com/coffeehouse/wireless-internet
Bookstore Cafe
126 Crosby Street,
(Between Prince St & Jersey St)
New York, NY 10012
Ph: 212-334-3324
For books, coffee, FREE WiFi and some quiet. Note: No electric outlets
Hours: Mon–Fri: 10AM–9 PM, Sat–Sun: 10AM–5PM
Subway: B, D, F, M to Broadway-Lafayette; N, R to Prince St