Hing Won Chinese Noodle Shop
48 West 48th St
(Between 5th Ave & 6th Ave)
New York, NY 10036
Ph: 212-719-1451
Subway: B, D, F, M to 47-50th St-Rockefeller Center
If I had my way, I'd build a towering statue to the owner of Hing Won Chinese Noodle Shop on W.48th St in Midtown Manhattan.
Put a garland round his neck and worship him every day.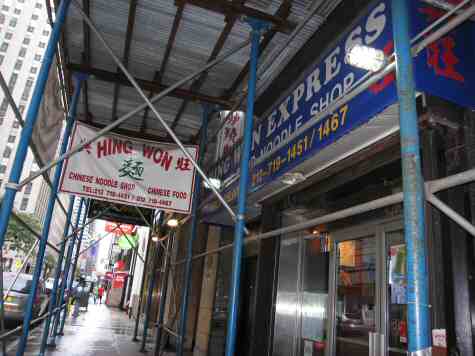 My first visit to Hing Won ended in a terrible disappointment.
Not because the food was bad but because the restaurant was closed during my visit on a Saturday.
Yes, the midtown branch of Hing Won is closed over the weekend.
Take note now, the place is open only Mon-Fri, 7:30AM-10:30PM.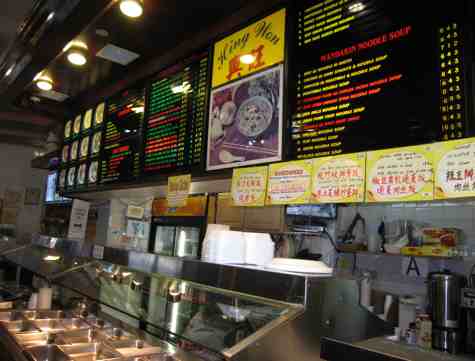 While planning my next visit, I made sure to be there on a week day.
I got there early on a Tuesday.
After a quick scan at the Breakfast Menu, I ordered two Breakfast Combos – Combo A and Combo C ($4.25 each including tax).
Combo A – Congee with Pork and Century Egg, Fried Dough and Coffee ($4.25)
Combo C –  HK Style Fried Noodles with Plain Congee and Tea with Milk ($4,25)
Since I was in a happy and spendthrift mood, I decided to splurge on Fried Fish Balls with Sauce ($1.75)
Hing Won on 48th St is a cafeteria style restaurant.
You select your items from the menu on the wall or from the paper menus at the counter, pay for it and wait at a table for your food to arrive.
The restaurant was empty except for one diner around 9AM.
It took about five minutes for my breakfast to be ready.
Hing Won Congee with Pork
Congee came piping hot and included green onion and pork.
With a faint flavor of garlic, the Congee was very good.
Serving size was medium.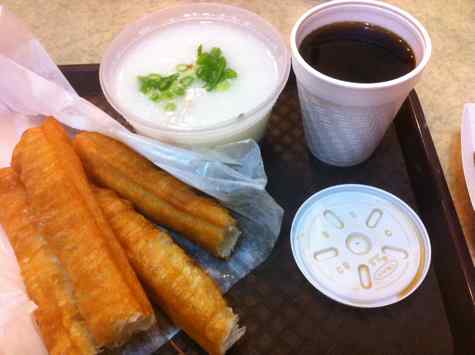 Congee with Pork, Fried Dough & Coffee – $4.25
I got five fried dough pieces.
Fried dough was hot, well fried both on the inside and outside and came with sauce.
No complaints, folks.
I relished the fried dough by dipping it in the hot sauce that was on the table.
Coffee was hot and although not Starbucks quality I still had no issues with it.
Fried Fish Balls
I got five piping hot fried fish balls with tamarind sauce and red sauce.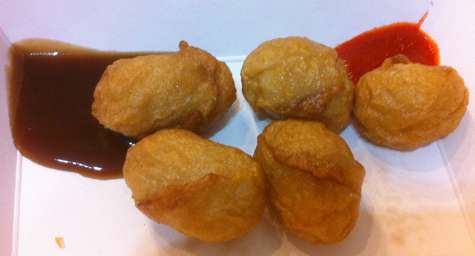 Fried Fish Balls with Sauce – $1.75
Red sauce was yummy and I enjoyed the fish balls by dipping them in it.
In no time the fried fish balls had disappeared into the cavernous stomach of mine.
HK Style Fried Noodles
As requested, HK Style fried noodles came with Plain Congee and Tea with Milk.
No meat in this one.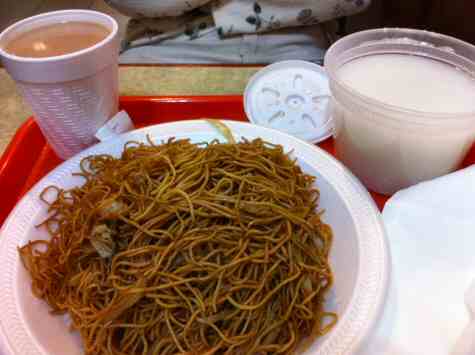 HK Style Fried Noodles, Plain Congee and Tea – $4.25
Fried Noodles were hot, fresh and included green onion.
I sprinkled some hot sauce and merrily dug into the noodles.
Serving size is decent and sufficient for a normal member of the Homo Sapiens.
Alas, Plain Congee is not in the same class as Congee with Pork and Century Egg.
Unless you are a vegetarian, I'd recommend you go with Congee with Pork and Century Egg.
Hing Won Ambiance
There is no ambiance to speak of in Hing Won Noodle shop.
As you enter, you have the food and cash counters on the left, tables at the rear, kitchen and rest rooms in the basement.
You pick up the Breakfast or Regular Menu at the counter or glance at the wall above the counter.
Place your order, pay up and wait at a table for your food to arrive.
Tables were clean but there were flies hovering around the tables.
Hing Won also offers a buffet for $6.25 a pound between 11AM and 4PM.
The restaurant also offers six varieties of Banh Mi sandwiches, priced from $6 to $6.45.
I missed it since I was way too early.
You can be sure that the Buffet will definitely be on my agenda during my next visit to Hing Won.
The place is conveniently located and within walking distance of Times Square, Port Authority Bus Terminal and Bryant Park. The 47-50th St-Rockefeller Center subway station is just two-minute a walk.
Hing Won is one of the many nice places that make New York City a fine place to live in.
DirtCheapNYC for the 99% enthusiastically recommends Hing Won on W.48th St for lovers of good food at cheap prices.