Jackson Heights Food Court
73-07 37th Road
Jackson Heights, NY 11372
Subway: E, F, M, R,, 7 to Jackson Heights/Roosevelt Ave
The quality of Indian food at the South Asian immigrant enclave Jackson Heights (around 74th St and 37th Ave) in Queens is getting, oh, so, so disappointing these days.
With Paan stains on the sidewalks, panhandlers on 74th St etc, the whole area is turning into one huge, stinking dump.
Back in the 1990s, most restaurants in the area served divine Indian food and I couldn't get there often enough from my Long Island home.
Lately, most South Asian restaurants in Jackson Heights that I graze at turn out to be depressingly bad.
Tawa Tandoor, Paradise Biryani, Mumbai Grill, Indian Taj, Dosa Delight, gosh, all of them are horror shows.
Terrible, like a bad Bollywood movie!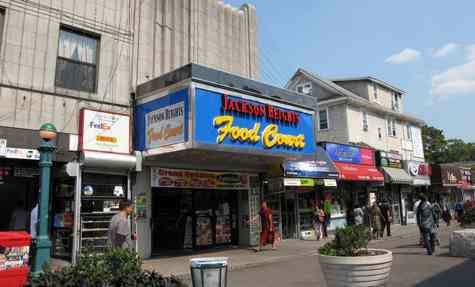 Jackson Heights Food Court on 37th Road
My latest disappointment was the Jackson Heights Food Court that's come up recently on 37th Road in place of the old Eagle Theatre that used to screen Bollywood films.
With mucho anticipation, I visited the Jackson Heights Food Court the other day, alas,  only to rue my decision.
The food court serves Indian/Bangladeshi, Mexican and Nepali and Tibetan food.
During my visit, I opted for the Indian/Bangladeshi items leaving the Nepalese, Tibetan and Mexican food for a future visit.
Gourmand that I am, is it any surprise that my table was soon filled up with a whole bunch of food items (both Meat and Vegetarian).
Sadly, most of them fell in the unpalatable inedible category.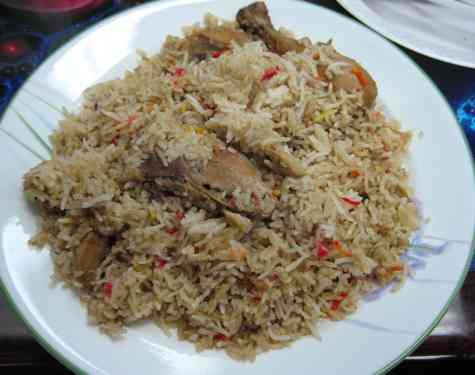 Chicken Biryani
Mon dieu, the Chicken Biryani ($5) was a horror show the likes of which I wouldn't serve to my worst Republican or Tea Party enemy.
Paul Ryan, Sarah Palin, are you listening? 😉
Utterly tasteless and flavorless, the Chicken Biryani was a nightmare of Romneyesque proportions!
When prepared well, Biryani can induce euphoria at the mere sight and aroma.
Biryani is usually cooked over a low flame with a whole bunch of Indian spices and minced chicken over the course of several hours.
But the monstrosity that I was served at the Jackson Heights Food Court seemed as if it was made from a "Cook Biryani in 15-Minutes' handbook.
The chicken pieces were nothing plain boiled chicken and had not absorbed a whit of the magical flavor of the Biryani spices.
Worse, the accompanying rice too had little flavor.
Take my word, this is the worst instance of cheating in NYC since Michael 'billionaire' Bloomberg bought a Third Term as Mayor of the Big Apple!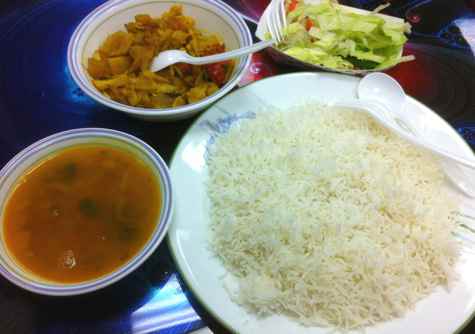 Vegetable Platter
Given my cheapo credentials and the raison d'etre of this web site, I begged the cute, scarfed Bangladeshi waitress for a lunch special.
And all I got was the $6 Vegetable Platter.
It included a big mound of White Rice, a godawful Mixed Vegetable Curry, a watery Lentil Soup and a hideous Salad without any dressing.
The Mixed Vegetable Curry consisting of cabbage, potato, gobi (cauliflower) and carrot reduced me to tears.
The curry had a strong flavor of turmeric and nothing else.
I'd put the watery Lentil Soup consisting of garlic, tomato, cilantro and onion in the OK category.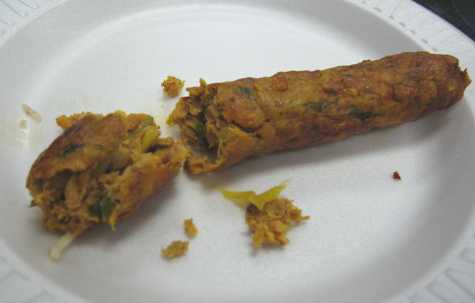 Chicken Sheekh Kebab
Chicken Sheek Kebab ($2) was one of the lesser disappointments of my meal.
Comprising of onion, crushed red pepper, cilantro with, of course, chicken, it was not that bad a deal for $2.
But it too had a dominating Turmeric flavor. 🙁
If ever I make the egregious blunder of revisiting the Jackson Heights Food Court, the Sheekh Kebab is the only thing I'd order.
One of the few items that I 'almost' finished.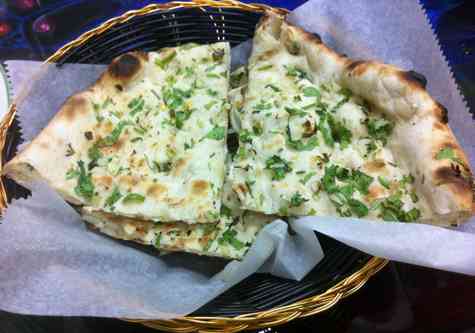 Garlic Naan
Man, it's hard to screw up Garlic Naan ($2).
But never underestimate the bozos at the Jackson Heights Food court.
For the dilettantes in the kitchen added more cilantro than garlic to my Garlic Naan.
It'd have also been nice to see a dab of butter on the Garlic Naan and for the edges to be cooked better.
Hey, I can dream, can't I?
Hideous Samosa
In a long life, I've had hundreds and hundreds of Samosas.
But rarely ever has such a disgusting Samosa collided with my taste-buds.
The outer covering was too thick and the potato etc filling was pathetic beyond description.
By the way, the $1 Samosa did not include any Tamarind Sauce or Green Chutney on the side. 🙁
D I S G U S T I N G!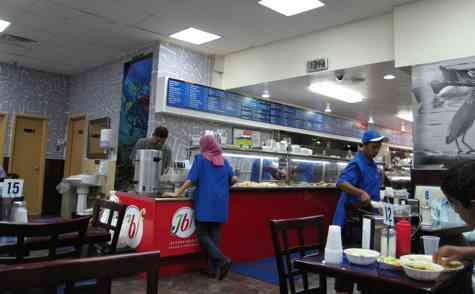 Inside of Jackson Heights Food Court
Poor Service
Our scarfed, pretty waitress was a clueless girl who seemed like she'd gotten off the boat 15-minutes before we walked in.
She grabbed my unfinished plate before I'd finished, realized her horrendous error a few seconds later and offered to get us White Rice by way of making amends.
I politely declined her offer.
She also got the prices of some items wrong and, overall, didn't give the appearance of one keen on the job.
Stay Away
Unless you're the intensely masochistic sort that gets off on mediocre Indian/Bangladeshi food, I'd recommend you stay away, far away from the Jackson Heights Food Court.