Kashmir's Dollar Burger
601 8th Ave
(Bet 39th St & 40th St)
New York, NY 10018
In an age when the once almighty dollar is as weak as the sad-looking figure of the once great pugilist Muhammad Ali now stricken with Parkinson's, give thanks to the Lord that there are still places in New York City where you can get a Burger for $1.
Ahem, a Chicken Burger.
But a burger by any name would be as satisfying. Isn't that what the Bard wrote?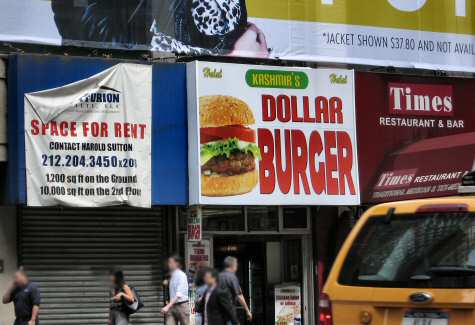 Kashmir's Dollar Burger is located on 8th Avenue, just a stone's throw from the busy Port Authority bus terminal and subway station in Midtown Manhattan.
Over the last few months, much attention has fallen on this tiny hole-in-the-wall operation thanks to its smart $1 Burger pricing.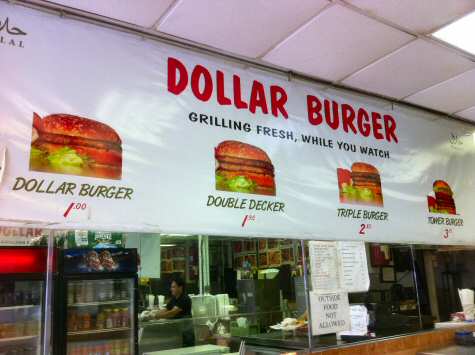 Inside of Kashmir's Dollar Burger
In my eagerness to sample its cheap wares, I dropped by at Kashmir's Dollar Burger to check out the burgers and Samosas rather early in the day.
My watch showed 9AM but Kashmir's Dollar Burger was 'open' and 'not open. '
The door was half-open but when I put my head inside came a shout from somewhere inside – come after 20 minutes.
I wandered round Midtown Manhattan and returned in about 30-minutes.
The place was now open for business.
Of course, my first choice was the $1 Chicken Burger. Hey, that was the purpose of my visit.
My verdict – well, well, there was the bun and there was a thin patty slice.
But even a starving Ethiopian would voice protest at the thin patty.
There was a bit of sauce added to the bun (see picture below).
I suppose you could call it a burger. 😉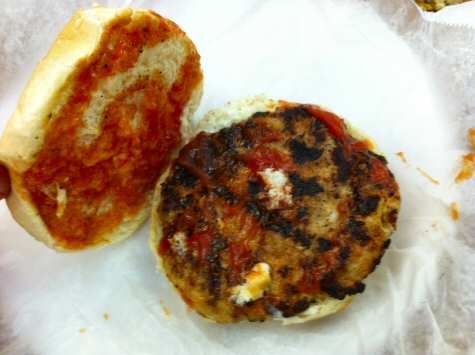 $1 Chicken Burger
So you want to know about the toppings for my $1 burger?
Ha ha ha, man you sure got some weird sense of humor.
No toppings with the $1 burger. Zip. Nada.
Any toppings is extra.
See the below Toppings price-list sign pasted on the restaurant's wall: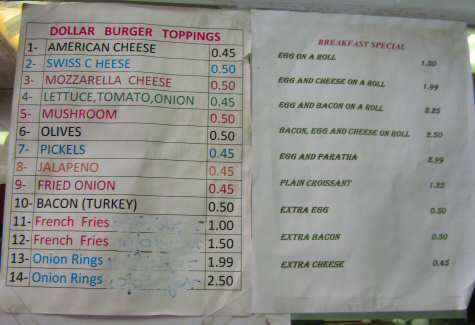 Veggie Burger
Since I was there, I thought why not try a Veggie Burger as well.
In any case, the damage to my wallet wouldn't be high. Just $2.
Veggie Burger included a Veggie Patty, Lettuce, Onion, Tomato and hot green sauce as per my request.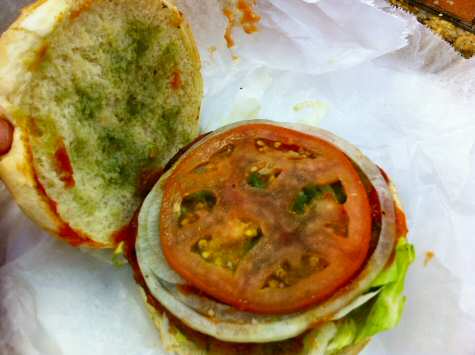 $2 Veggie Burger with Toppings and Green Chutney

Veggie Burger was tasty (thanks to the hot green Chutney daubed on the bun) though I would have liked a firmer patty.
The patty that came with my Veggie Burger was mushy.
Vegetable Samosa
Drat, the Vegetable Samosa was not even lukewarm.
To make a bad Samosa worse, the Potato filling was tasteless.
Also, the $1.50 Vegetable Samosa did not come with any sides like tamarind sauce or green Chutney.
In a word, it was a mighty big RIPOFF.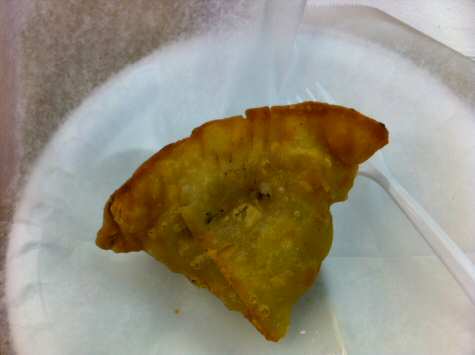 $1.50 Samosa – Ripoff
Burger Lunch Combo
I was bored and had some spare change in my pocket.
So I splurged on a Lunch Combo ($2.99).
My combo included two Chicken Burgers, a small size Fries with Ketchup and Soda on the side.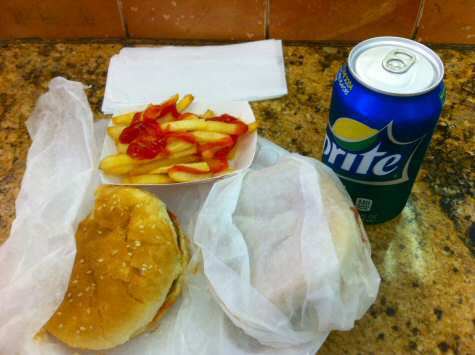 $2.99 – Twin Burger, Soda, Fries Combo
Fries were crisp.
Thank God for that. After the Samosa ripoff, my mood had turned dark.
Ambiance
Ha, ha, ha.
Whaddayathink?
This ain't no Ritz, kiddo.
Kashmir's Dollar Burger is a small takeout place with a counter on the left side where you can stand and eat your burgers, Samosas etc.
During my visit, there was only one person, a middle-aged Pakistani fella minding the counter and kitchen.
Kashmir's Dollar Burger also sells pre-cooked Indian/Pakistani curries like Alu Bhujia, Chicken Kadai, Chicken Tikka Masala and a variety of Naan bread.
But given my extreme disappointment with the Samosa I shied off from the curries in the glass enclosure.
High Cost of Low Price
As I never cease to tell people, cheap always comes with a high price.
One way or the other, you pay the price.
In August 2012, the NYC Department of Health closed Kashmir's Dollar Burger twice on hygiene grounds.
Bon appétit!