The other day during one of my frequent aimless strolls through Chinatown/East Village I stumbled upon Yi Zhang at 9 Eldridge St.
From the outside, other than its attractive signboard there's little to distinguish Yi Zhang from so many other Chinese restaurants dotting the neighborhood.
Hey, it's Chinatown/East Village and there are plenty of cheap eating places here.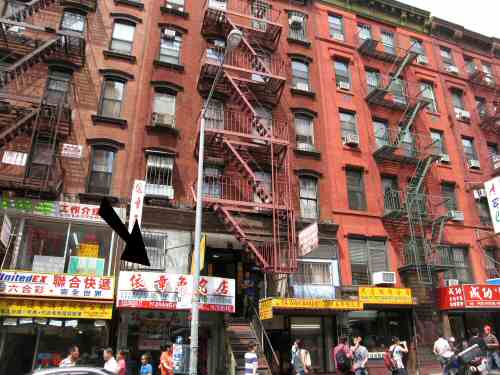 Yi Zhang @ 9 Eldridge St

But step inside Yi Zhang and a treat awaits you.
Thank God, this is no Prosperity Dumpling with its cramped two-chairs interior.
Yi Zhang is also spanking clean.
There is a long ledge on either side of the wall with a total of 12 chairs in the dining room.
On the narrow ledge,  you find neatly stacked hot sauce and other sauces, plastic spoons, chopsticks and napkins.
Cash Counter, the restroom and the kitchen are at the rear end.
You can't miss the big menu on the two walls.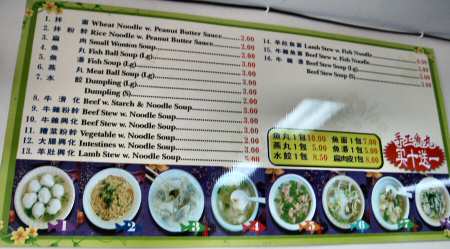 Yi Zhang Menu
A lot of Chinese restaurants in Chinatown NYC offer delicious food at rock bottom prices.
But Yi Zhang hits the bull's eye for great food at low prices.
Most items are either $2 or $3.
I counted only four items in the $5-$6 range.
Since I was not a meaty mood during my visit, I opted for Rice Noodles with Peanut Butter Sauce ($2) and Vegetables with Noodle Soup ($2).
You place your order at the cash counter, pay cash for your food and wait at the table for the Chinese ladies to bring it to you.
My food came within six minutes of ordering.
Rice Noodles with Peanut Butter Sauce
Rice Noodles with Peanut Butter Sauce came with a clear hot soup with chopped green onions.
That was a nice bonus for a dish costing $2.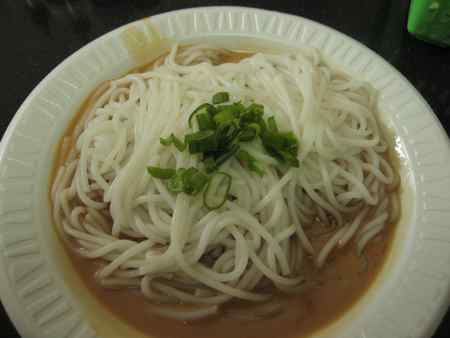 Rice Noodles on top of Peanut Butter Sauce –$2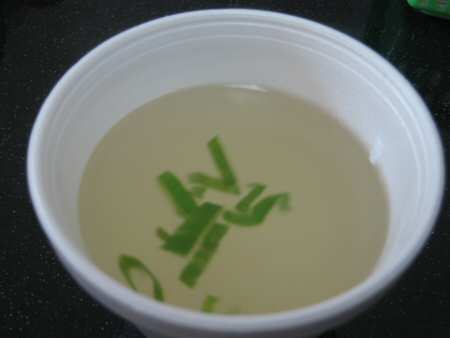 Yi Zhang Clear Soup (included with above)

The serving size of both the noodles and the clear soup were decent.
I have no complaints on that score.
More than enough for a meal.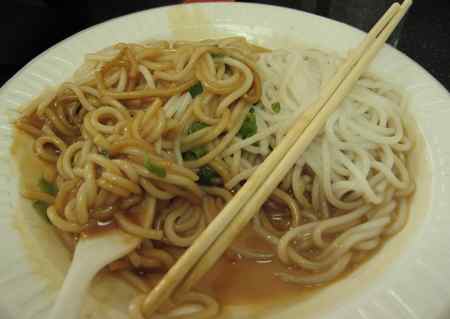 Halfway through my Meal 
Although I'm not a great fan of peanut butter, I found myself enjoying my  Rice Noodles with Peanut Butter Sauce.
It was delicious.
The noodles came with chopped green onions toppings.
The clear soup was over in no time.
Add some of that hot sauce by the wall if you want to add heat to your noodles.
I've been eating noodles for a long, long time.
But I can't think of a better noodles lunch for such a trifling sum ($2).
Vegetables with Noodle Soup
Vegetables with Noodle Soup came piping hot to the table.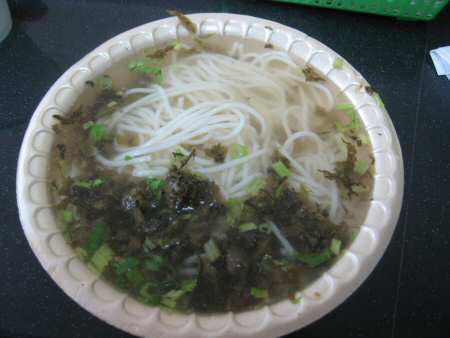 Vegetable Noodle Soup – $2
Besides the noodles, my bowl included some leafy vegetables and chopped green onions.
What those vegetables were, I have no idea. The dark  greenish leafy stuff floating in my noodles had a seaweed like texture.
Again, the quantity was sumptuous and the taste delicious.
I was in no hurry and took my time slowly slurping the noodles.
Solid Value
Folks, Yi Zhang is great value for money.
The guy at the cash counter was extremely polite.
He explained that the majority of his customers were Chinese people looking for a good, cheap meal.
Apparently, some Americans do drop in occasionally.
If they had any sense, more Americans would head there.
The restaurant has a pleasant atmosphere and is very clean.
There are electric outlets where you can charge your cellphone or laptop.
I plugged in my iPhone and waited a few minutes for the battery to hit 90% before stepping out of Yi Zhang in pursuit of more dirt cheap NYC deals.
Dirt Cheap NYC for the 99% strongly recommends Yi Zhang on Eldridge St for its fine noodles at obscenely low prices.