On hot summer days, my brain just melts.
And in such a state I've been known to splurge on not-so-cheap things in my favorite city, Noo Yawk.
Just the other day I was walking down Park Avenue in midtown Manhattan on a sweltering afternoon.
I was dying for some relief. Something cold would be heaven.
As I was approaching the intersection of E 51st St and Park Avenue near St. Bartholomew's Episcopal Church, I spotted a bright pink truck parked in front of First Republic Bank  with attractive images of strawberries, grapes and yogurt.
Since I was in extremis because of the urelenting heat, I impulsively stopped near the truck to check the prices and what was available.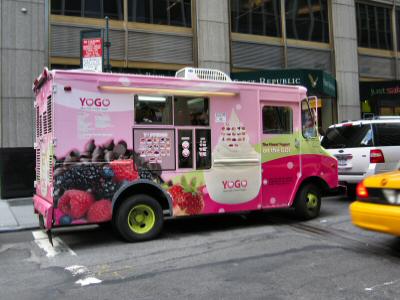 Yogo Truck – E 51st St & Park Ave NYC
Yogo Truck as the name suggests sells fat free tart and vanilla flavored yogurt.
There are a variety of toppings – honey, strawberry, blueberry, almonds, blackberry, kiwi, dried marshmallows, mochi, coconut, pineapple, pistachio, chocolate or cherry dip, gummy bears, dark chocolate chips, granola, cookie crumbs, rainbow sprinkles etc.
Yogo truck's yogurt and tart come in cones, small cup ($4 with one topping), regular cup ($6 with two toppings) and large cup ($8 with three toppings).
Yogo Truck E 51st St – Prices and Flavors
Since my first, middle and last name is cheap, I tried Tart Yogurt with honey.
Ooo la la la. It was good.
Just what I needed on a dreadfully hot Manhattan day.
My only complaint was the price – For $4, the serving size of the yogurt cup was too small. And just one topping. Can you get any more cruel.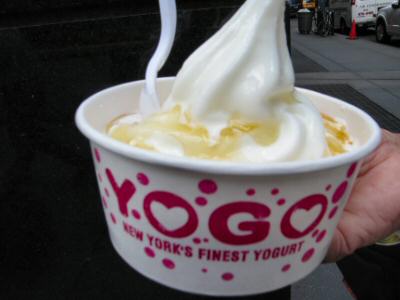 Yogo Truck's Tart with Honey Topping – $4
My verdict on the Yogo Truck's Yogurt – I like it but it's not really value for money.
Related Content
Yogo Truck Web Site